Back to overview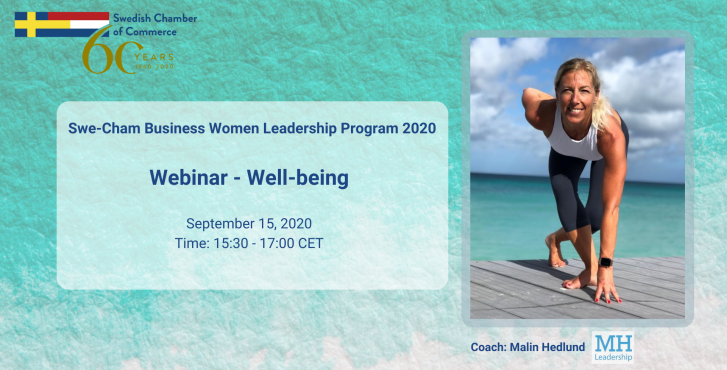 The Swedish Chamber of Commerce Women Business Program September 15, 2020
Health and Self-care
Webinar 15.30 – 17.00
Self-care is important to our physical, mental and emotional well-being. The daily responsibilities of working, running a business, dealing with people, and living day to day and find time to spend with our loved ones slowly wears us down. This is why it important to take steps to protect our overall well-being.
Self-care doesn't have to be difficult or time consuming. Little things like finding time for enjoying your morning cup of coffee in peace, find time for a daily exercise, however small, or to find a morning routine that works for you can be part of your self-care habit. You just need to have the right mindset and know the basics of a stable and effective self-care routine. Physical health is the foundation of self-care, it is also the easiest to start on. Having a fit and healthy body and mind leads to a more positive attitude and a happier disposition.  It will affect the way you work and the way you are dealing with your daily obligations both professional and in your private life.
The Swedish Chamber of Commerce Women Business Program in collaboration with Malin Hedlund, MH Leadership will provide the tools and guidance for you to start your self-care routines and to hold on to them to increase your inspiration and energy for your everyday life.
"In my experience coming together in a group with likeminded people increases the inspiration and motivation to take the action steps needed to start your self-care routines and get positive results"

Malin Hedlund, MH Leadership
Did you miss this webinar? Malin Hedlund is offering a 30 minutes zoom recap on October 6, 2020 from 10.00 – 10.30.  Send an email to events@swedishchamber.nl to join!
The next Swedish Chamber Woman Leadership Program will take place on November 24, 2020. 
More information tba.
In collaboration with:
Participation Fee
Members of the Swedish Chamber of Commerce : Free of Charge
Members of Young Professionals of the Swedish Chamber: Free of Charge
None Members: Euro 12,50 excl. VAT
Registration details
Registration for this Webinar is compulsory. Register digitally or send an email to events@swedishchamber.nl
Upon registration you will receive a confirmation and a link to join the Webinar.
Terms & Conditions
Bookings are non-refundable, but at the discretion of the organiser, you can change the name of the person attending. For this, please contact events@swedishchamber.nl
The Swedish Chamber of Commerce would like to thank all participants for contributing to the success of the Swedish Chamber Patron Dinner on November 22, 2016. We cordially thank H.E. Ambassador of Sweden and Honorary Chairman of the Swedish Chamber of Commerce Mr. Per Holmström for hosting the Patron Dinner 2016 and Mr. Jeroen van der Veer, ING Keynote speaker and Honorary Guest, for sharing his experiences and introducing the Round Table discussions.
View event
Register for this event - Non-members
Register for this event - Members
Thank you for registering for this event. Below you can let us know if you want to bring a guest, and if so, how many.