Back to overview
#NORDICTALKS Sustainable Fashion Days 2020
With the #NordicTalks Sustainable Fashion Days 2020 we aim to raise awareness for sustainable fashion and the environmental and social impact, to connect the sustainable fashion industry in the Nordics and the Netherlands, to support new collaborations and experience exchange, to spark the conversation and to showcase leaders and innovators.
#Nordictalks Sustainable Fashion Days 2020 is organized in collaboration with the Swedish Chamber of Commerce for the Netherlands, Finnish Dutch Chamber of Commerce, Danish Dutch Chamber of Commerce, Norwegian Dutch Chamber of Commerce, Embassy of Sweden in The Hague, Embassy of Denmark in the Netherlands, Royal Norwegian Embassy in The Hague, Embassy of Finland in The Netherlands
1st WEBINAR 16th September 2020 | 15:00 – 16:30
GREEN FASHION. GREEN FUTURE | Is the Future of fashion Green?
With a call for sustainable fashion that is more conscious (buying less, using better materials), fair (social justice in the supply chain, livable pay) and circular (sharing/renting business models, longevity, repairing and clothes with stories), how does a sustainable fashion company look like? What do they produce, where, in what way and in what quantities? Who are their customers? Who are the producers? What materials do they use, how do they sell clothes and for how much?
Insights into the big systemic changes transforming the industry and recreating the trends. Is sustainable collection the answer? Or do we need a strategic change and new business model? How to achieve this?
Big brands, new brands. Collaboration with innovative start-ups and scaling of ideas
This webinar was held on September 16, 2020.

Today the #NordicTalks partners in collaboration with MissionC supported by the Nordic Council, were very pleased to welcome more than 250 participants to the first webinar in a series of three about Sustainable Fashion where several leading Nordic and Dutch fashion profiles will be sharing their insights. Production, retail, consumer perspective as well as social and environmental aspects will be touched upon to get an overall understanding on the complexity and how we as individuals can make change happen. Today's webinar theme was Green Fashion – Green Future, September 23 Consumers turning green and on September 30th, the last webinar in the series, Awareness raising "We know now".
Big thanks to today's inspiring speakers for eye-opening reflections on how to transfer the fashion business models into sustainable and fair. Also big thanks to all participants for sharing thoughts and discussions in the webinars chat and for the great questions to the speakers. Finally, a big thank to Andrea Orsag, Sustainability and Circular Economy Evangelist and co-founder of MissionC, who was and will be our moderator for the whole webinar series. Join us again on Sep 23!
Here are the Sustainable Fashion Business Transformation key take-aways by Moderator Andrea Orsag:

European Commission represented by its president Ursula von Der Leyen proposed today increase in 2030 emission reduction from 40% to at least 55%
Currently the fashion industry is responsible for around 10% of the global CO2 emissions. To achieve emissions reduction, the fashion industry needs to change as well: by using better materials, better business models minimising waste and enhancing longevity, by improving the resources efficiency and also working conditions of garment industry workers
Strong leadership is important to set clear targets and work on this transition now – with a clear roadmap, monitoring & communicating progress, applying innovation, technology and insights from pilots that are ready to be scaled up
Collaboration among different partners (from suppliers, material producers, retailers, NGOs, governments and others) will be crucial to accomplish the change
It's not only about using sustainable materials, it's also about different consumption patterns – focusing on quality instead of the quantity
GREEN FASHION. GREEN FUTURE | Is the Future of fashion Green? is number one of a series of Sustainable Fashion webinars. Welcome to sign up for all:
2nd Webinar, 23rd September 2020 | 15:00 – 16:30. – CONSUMERS TURNING GREEN.
3rd Webinar, 30th September 2020 | 15:00 – 16:30.  – WE KNOW NOW.

Do not register at the Swedish Chamber website, please go to https://nordictalks.org/sustainable-fashion-days-2020/ for registration.
Partners:
Sponsors:
Venue
Webinar
Registration is made on the NordicTalks website: https://nordictalks.org/sustainable-fashion-days-2020/
Kim Poldner
Kim Poldner (1978) is Professor Circular Business at The Hague University of Applied Sciences and is affiliated with Wageningen University & Research (WUR), the Netherlands where she founded the Circular Fashion Laband developed the MOOC 'Design, Science and Value in a Sustainable Clothing Industry'https://www.edx.org/course/circular-fashion-in-a-sustainable-clothingindustry. Professor Poldner graduated at the University of St. Gallen, Switzerland: for her PhD project she longitudinally studied 58 sustainable entrepreneurs in the fashion industry. She initiated and organized the first edition of Un-Dress in 2012, named after her PhD dissertation: 'Un-Dress – Stories of Ethical Fashion Entrepreneuring'.  Her research interests evolve at the crossroads of entrepreneurship, aesthetics and sustainability and she has written award winning case studies on sustainable fashion pioneers such as Veja and Osklen. She publishes in journals such as Organization, Journal of Business Venturing, Organization & Environment, Business & Society and Journal of Cleaner Production.     Before she embarked on an academic career, Professor Poldner was founder of the first eco fashion store in The Netherlands in 2005 and initiator of online platform 'Eco Fashion World'. Her green wardrobe, including her up cycled wedding dress, was exhibited during the exhibition 'Wear I Am' in 2017.
Signe Roedbro, Founder & Designer
Signe Roedbro founded the brand 'By Signe' in late 2015, approaching an honest design process, the brand is focusing on working with high quality materials while minimizing the environmental impact and at the same time, creating positive social ones. The brand strives to have its full value-chain covered sustainably from start to finish in all aspects from raw fibres to finished garments, tags, labels and packaging. & together with a Turkish partner, Founder and designer, Signe Roedbro established an atelier in Turkey last year, from where the collections of the brand, together with an exclusive selection of likeminded brands, are manufactured.'Moon Productions' is an ethical- and socially responsible manufacturing facility in Turkey build on European principles, applying positive changes directly to the lives of the employees and honoring the handcraft of manufacturing in a safe and healthy environment. Creating 'real clothes for real women' in the most honest way possible, the brand is hoping to express a mood and appeal to emotions, which are free for anyone's interpretation.
Moderator Andrea Orsag
Sustainability and Circular Economy Evangelist. Andrea is a co-founder at MissionC, strategy advisory based in Amsterdam on a mission to accelerate the transition to Circular Economy on a global scale. Consultant with 10+ years of experience combining Risk Management, Strategy and Change Management cross-industry, both for the commercial sector and not-for-profit organisations internationally. Helping organisations bring their ideas to life by refining their sustainability strategies, adjusting business models towards circularity, delivering programs and engaging stakeholders. Andrea also acts as a speaker, guest lecturer, expert moderator and facilitator on topics related to Circular Economy and Sustainability.
Lotta Kopra, CCO at Spinnova
Lotta is responsible for Spinnova's commercial operations including partnerships and marketing. An entrepreneur at heart, Lotta has strong experience on commercialization, innovation, new business models and partnerships. Spinnova is a Finnish, sustainable fibre innovation company that develops ecological breakthrough technology for manufacturing cellulose-based textile fibre. Spinnova's patented, climate positive fibre includes 0% harmful chemicals and 0% waste or side streams, making the fibre and the production method the most sustainable in the world. The Spinnova value chain features 99% less water and significantly less CO2 emissions than the cotton value chain. The Spinnova fibre is also recyclable with the Spinnova process without harmful chemicals. Spinnova's raw material commitment is to only use certified wood or waste raw materials. Spinnova has been awarded e.g. a World Changing Idea by the Fast Company in 2019, as well as Sustainability Achievement of the year by the ISPO and Scandinavian Outdoor Awards in 2020
Sigmund Hegstad, Founder Fair & Square
Sigmund Hegstad is originally a dancer. He danced with Royal Danish Ballet and at the Nationaltheater Mannheim because he returned home to Norway to freelance. At the same time he got engaged in working for better working conditions in the textile industry. This led him to start Fair & Square, a clothing brand and garment production company in order to guarantee good working conditions for textile workers.
Annet Feenstra, Sustainability Manager H&M Netherlands
Annet has been working at H&M for 25 years now, where she started in the store as a side job next to her studies and after that, she had various positions in Marketing and Communication. Annet has been working as a sustainability manager for H&M in the Netherlands for 7 years. Annets' job is to inform colleagues, our customers, media, and organizations about H&M's work in the field of sustainability. H&M's goal is to make fashion sustainable and sustainability fashionable. For the H&M Group, this means that we want to become a 100% circular and climate-positive company and that we make it possible for consumers to make conscious and well-informed choices.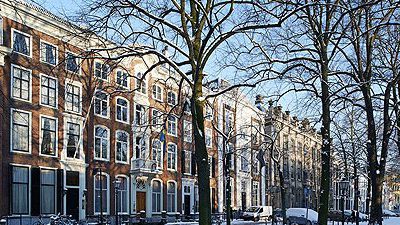 The Swedish Chamber of Commerce would like to thank all participants for contributing to the success of the Swedish Chamber Patron Dinner on November 22, 2016. We cordially thank H.E. Ambassador of Sweden and Honorary Chairman of the Swedish Chamber of Commerce Mr. Per Holmström for hosting the Patron Dinner 2016 and Mr. Jeroen van der Veer, ING Keynote speaker and Honorary Guest, for sharing his experiences and introducing the Round Table discussions.
View event
Register for this event - Non-members
Register for this event - Members
Thank you for registering for this event. Below you can let us know if you want to bring a guest, and if so, how many.