Back to overview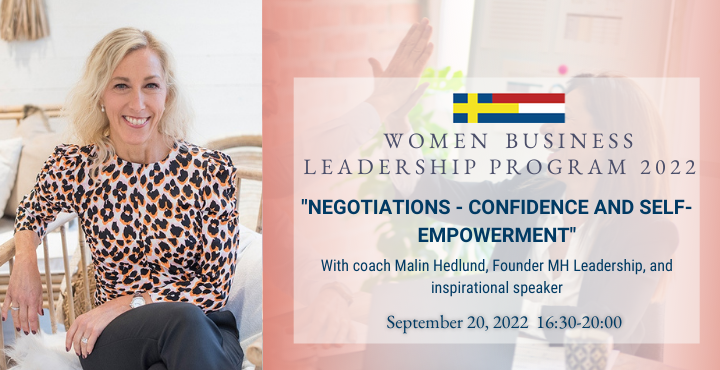 SEPTEMBER 20
16:30 – 20:00
This event is part of the Swedish Chamber Women Business Leadership Program 2022.
Coach: Malin Hedlund, MH Leadership
How to present your ideas and get your team to listen? What about negotiating your salary or growing within your company?  Negotiation skills are tricky and ask for confidence and self-empowerment. In this event you will learn how to present your ideas, acknowledge your value and negotiate your salary with confidence. Engagement, drive, and determination are vital elements and there will be many tips and exercises to help you to reach your goals.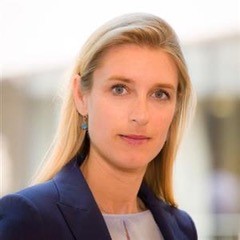 INSPIRATIONAL SPEAKER:
Marieke Bakker, Tax expert and member of Loyens & Loeff's International Tax Services practice group. She specializes in cross-border tax issues.
Marieke mainly advises multinationals and trading companies on International tax issues. She headed the Zurich office for four years and worked for six months at an Australian law firm in Sydney. She was a member of Loyens & Loeff's Executive Board from April 2016 until October 2018, the last six months as managing partner.
Marieke used to teach at the LL.M. tax programs of the Universities in Zurich and Lausanne, and at the Dutch Association for Tax Advisers, teaching on mergers and split-offs. She also worked as a research associate at the Erasmus University Rotterdam.
"The reason I attended the Swedish Chamber of Commerce Women Business Leadership Program was that after nearly a year with Corona/Lockdowns I wanted to make sure to keep my energy level high and hoped that attending the program would help me (to give some tips/guidance). Your program encouraged me to make some changes through small steps that had a positive impact on my energy level and overall wellbeing."
Marieke Bakker, Tax expert, Loyens & Loeff

ABOUT THE SWEDISH CHAMBER BUSINESS WOMAN LEADERSHIP PROGRAM:
The Swedish Chamber of Commerce Women Business Leadership Program is tailormade to personal needs and will help you identify the obstacles to your success, as well as guide you towards becoming the best version of yourself – both as a leader and in your private life. Despite being successful in their roles and producing positive results, many business leaders and professionals experience a lack of confidence, low energy levels, stress, and fatigue. They often feel as though they are not being heard and are unsure of themselves and where they are heading. Many leaders feel both physically and mentally drained because they do not take care of their bodies and mind.
With the Swedish Chamber of Commerce Women Business Leadership Program 2022, we offer 4 events spread over the year with 4 different topics to find your leadership identity, empower yourself to be fit to lead, and learn to use your network. You are welcome to sign up for all 4 events or individually for the event that you are interested in attending. You will be working towards your personal goals and developing your leadership skills and you can get a better idea of what changes you need to make to live your best life. All programs include coaching by Malin Hedlund who will give you the theoretical background information you need, provide practical exercises, facilitate teamwork and individual tasks, and exercises to practice in your environment until the next session. At each session, you will also meet an inspirational speaker or role model with a close connection to the topic.
TESTIMONY: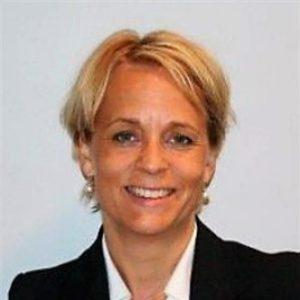 "Participating in the Women Business Leadership program, provided by Malin via the Swedish Chamber, has been a great help in my daily life, both private and business-wise! It has provided me with tips & tricks to be better aware of why I do things the way you do them, and if needed how I might be able to change/improve. The term "ant-steps" is one that often comes to my mind. I really recommend you to join a session!
If you are not able to do all four, one is more than not at all! But I'm sure if you go for one you will most likely want to join all sessions. I always leave these sessions with such a positive boosted feeling."
Pernilla Guitink-Svensson, Process Improvement Professional at ASML
SPECIAL OFFER
Possibility to book 2 personal coaching sessions with Malin for an additional cost of € 250 incl. BTW (Normal price € 700 excl. btw) Please indicate in your registration if you are interested to add this extra service.
The Swedish Chamber of Commerce Women Business Leadership Program is powered by:



Venue
Swedish Chamber of Commerce
Edge Olympic
Fred. Roeskestraat 115
1076 EE Amsterdam
Participation Fee
Members 50 Euro per workshop excl BTW
YP Members 25 Euro per workshop excl BTW 
Non-Members 75 Euro per workshop excl BTW 
Registration details
Welcome to use digital registration below or send an email to events@swedishchamber.nl before September 13, 2022. Upon registration, you will receive a confirmation.
Terms & Conditions
Bookings are non-refundable, but at the discretion of the organizer, you can change the name of the person(s) attending. For this, please contact events@swedishchamber.nl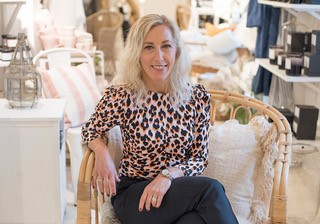 Malin Hedlund, MH Leadership
Register for this event - Non-members
Register for this event - Members
Thank you for registering for this event. Below you can let us know if you want to bring a guest, and if so, how many.