Back to overview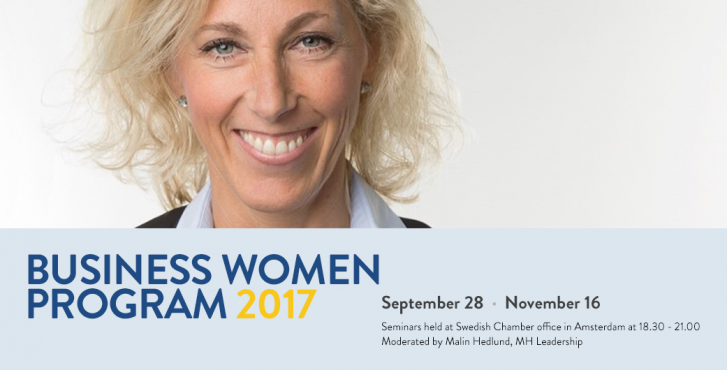 Fit to lead – Facing the challenges
The theme for this seminar is Fit to lead – Facing the challenges. Leadership can be tough on both body and mind, and to cope in the long run with good health and a high quality of life we might need to make changes in our daily life. In this part of the Business Woman Program, we will discuss tools for healthy leadership and raise questions about energy. What is energy? Where does energy come from and how can we produce and have more energy every day?
About the program
The Swedish Chamber of Commerce exclusive Business Woman Program 2017 presents four seminars for the empowering and support of woman business leaders. The seminars are designed to increase and sharpen your leadership skills and to help yourself to a higher level of efficiency, awareness, and success. Moderator is Malin Hedlund, MH Leadership. We welcome the women from the Swedish Chamber, Young Professionals of the Swedish Chamber and their relations with a focus to expand leadership intelligence and strengthen the inner power. You can follow any number of seminars you prefer. If you attend all four, the Swedish Chamber will offer you the last one for free!
Venue
Swedish Chamber of Commerce
De Ruijterkade 5, Amsterdam
Where do you go to get inspired and have fun?
I'm sure many of you are still enjoying the summer, and I suspect you may be feeling like you've slowed down a little in the pursuit of your dreams and visions. If so, I think it's great – everyone needs to stop and rest, even on the greatest of journeys. With that in mind, I wanted to send you a different kind of blog this week. I'm sending you a very short list of some of the websites/blogs I visit myself when I want to relax and feel inspired. The wonderful thing about inspiration is that it doesn't matter what inspires you – it could be an interesting recipe or an article about a Nobel Peace Prize winner – simply feeling inspired about anything gives you energy and reconnects you to what you want in life and how you want to feel. It's valuable even if your ambitions lie in completely different areas.
So, here are three places I go to have a laugh, kill some time, or learn something interesting.
Instagram! The great thing about Instagram is that it can change your mood in a second. You might find something interesting and fun, see something you never would have thought of before, or find a picture of a place or scene that just really resonates for you.

ChaleneJohnson.com – This woman has an unapologetic and unique style and she simply goes for what she wants (and gets it!). Possibly the only person I know who can combine yellow stilettos and a long list of well-researched and interesting podcasts with health, leadership, and lifestyle experts.

Bulletproof.com – You might not be able to guess the topic of this site just based on the name, but this is one place I go to get the latest developments and research on food, eating, and optimal health. I learn a lot here, and Dave Asprey, who runs the site, has a fundamental belief that it is always possible to change your life for the better. And I agree with that!
You can either visit these sites or not, but I am so curious to hear what you find interesting! What sites/podcasts/shows help you connect with things you want in life? Let me know in the comments, or connect with me and send me a message. Looking forward to it!
Stay Great,
Malin
Bron: https://mhleadership.com/leadership/go-get-inspired-fun/
Participation Fee
EUR 25,00 p.p per seminar.
Registration details
For digital registration welcome to click on one of the buttons below or send an email to events@swedishchamber.nl
Registration open until September 23, 2017.
No Refund possible after September 23, 2017.
Malin Hedlund
It hit me one day during my work for a small consultancy bureau that, first and foremost, I only want to work from my heart. I want to contribute to the world. I want to understand what people are missing, what they want in their life, and I want to help them get it. I want to do this in my own way and create my own brand. I started as a trainer in leadership, communication, and presentation at the American Dale Carnegie in Sweden in 1995. After that I worked for a company who specialized in Recruitment before moving to a Training Consulting business. During this time I learned and gained experience from multiple projects whilst exploring different working strategies. I found that most managers had not reached their potential despite looking for their next step to continue growing and thriving. I believed that I could offer a bespoke, holistic programme around the individual so started my own business Malin Hedlund Leadership.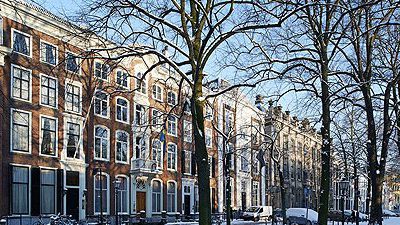 The Swedish Chamber of Commerce would like to thank all participants for contributing to the success of the Swedish Chamber Patron Dinner on November 22, 2016. We cordially thank H.E. Ambassador of Sweden and Honorary Chairman of the Swedish Chamber of Commerce Mr. Per Holmström for hosting the Patron Dinner 2016 and Mr. Jeroen van der Veer, ING Keynote speaker and Honorary Guest, for sharing his experiences and introducing the Round Table discussions.
View event
Register for this event - Non-members
Register for this event - Members
Thank you for registering for this event. Below you can let us know if you want to bring a guest, and if so, how many.