Back to overview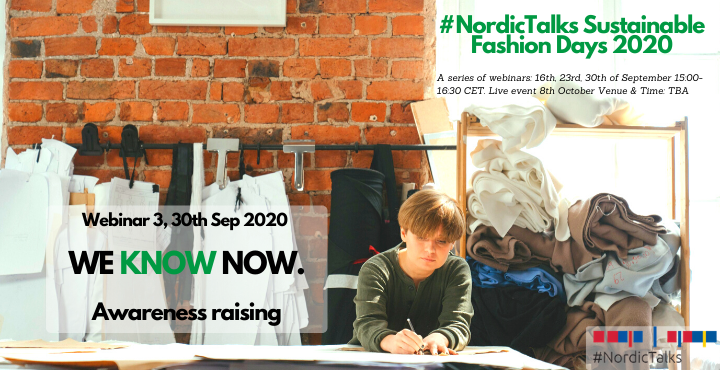 #NORDICTALKS Sustainable Fashion Days 2020
With the #NordicTalks Sustainable Fashion Days 2020 we aim to raise awareness for sustainable fashion and the environmental and social impact, to connect the sustainable fashion industry in the Nordics and the Netherlands, to support new collaborations and experience exchange, to spark the conversation and to showcase leaders and innovators.
#Nordictalks Sustainable Fashion Days 2020 is organized in collaboration with the Swedish Chamber of Commerce for the Netherlands, Finnish Dutch Chamber of Commerce, Danish Dutch Chamber of Commerce, Norwegian Dutch Chamber of Commerce, Embassy of Sweden in The Hague, Embassy of Denmark in the Netherlands, Royal Norwegian Embassy in The Hague, Embassy of Finland in The Netherlands
We are very pleased to invite all Members of the Nordic Chambers of Commerce and their relations, the Nordic Embassies, Government representatives, sustainable (fashion) networks and others interested in the Nordic – Dutch Sustainable Fashion to take part and participate in the #Nordictalks Sustainable Fashion Days 2020.

3rd WEBINAR 30 September 2020 | 15:00 – 16:30

WE KNOW NOW.| Awareness raising
We don't know what we don't know. Is this however something we can still claim
about the secrets of fashion business? We should wear our values – clothes that are
sustainably and ethically made, providing also those who make them a decent living.
Quality over quantity. Fashion can be used as a voice of CHANGE. What do you stand
for?
• Raising transparency, campaigning, social justice, spotlighting solutions and
bright ideas
• The environmental impact of fashion
• Social impact of fashion – Sweatshops #whomademyclothes #payup
• Company values and importance of purpose
• Role of campaigns and advertising – using fashion as a force for good
More info about the event and the guest speakers will be announced.
An upcoming series of Sustainable Fashion webinars.
Live event & Webinar, 8th October 2020 | Time: 16:30-20:00. Venue: TBA. – BE PART OF IT.

Partners:

Sponsors:

Participation Fee
Members of any of the organizing Nordic Chambers Free of charge
Members of the Young Professionals of any of the organizing Nordic Chambers Free of Charge
Non-Members TBA
Registration details
For members please register for this webinar by using the booking form below. Upon registration, you will be sent a confirmaion and information on how to connect to the webinar.
For non-members we will send information about our attractive package price to attend all 3 webinars and live event.
Terms & Conditions
Bookings are non-refundable, but at the discretion of the organiser, you can change the name of the person attending. For this, please contact events@swedishchamber.nl
Register for this event - Non-members
Register for this event - Members
Thank you for registering for this event. Below you can let us know if you want to bring a guest, and if so, how many.